Staff Correspondent: A seminar on – "Revolutionizing Animal Nutrition: Bringing Global Expertise in Bangladesh" was held on Saturday (23rd September) at the Radisson Blu Water Garden Hotel, Dhaka. The Seminar was jointly organized by Trouw Nutrition and Avon Animal Health. In addition to BPICC (Bangladesh Poultry Industries Central Council) President Mr. Shamsul Arefin Khaled, more than 200 people, including various feed millers, nutritionists, consultants, poultry breeder farmers from the country and abroad were present.
At the beginning of the seminar Dr. Amzad Hossain, Sales Manager, Trouw Nutrition introduced the Trouw Nutrition Bangladesh & South Asia team to the guests. After that, Head of Sales, Kbd Ziaur Rahman introduced company higher officials on behalf of Avon Animal Health. Dr. Chandani Parihar, Marketing Head-Nutreco India, played the role of host in the entire program. The event started auspiciously with recitation from the Holy Quran.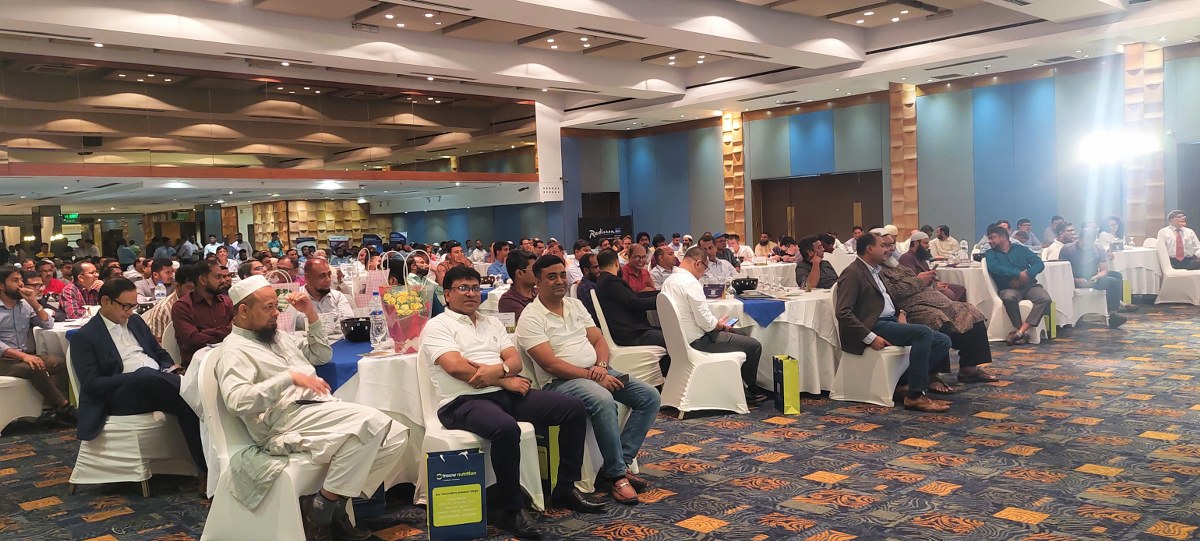 Mr. AKM Sayeed Sarwar (Litu), Chief Executive Officer (CEO) of Avon Animal Health gave a welcome speech on the seminar. He said that, from the beginning of our business, Avon always tried to bring some latest, updated, result oriented and cost-effective product in our market. We always think that if you can improve the feed quality with the help of our quality product and can minimize the feed cost and that is almost our success of our business. So, we do not compromise with the product quality. Before selecting any product to our product line, we analyze its characteristics and taking several trials. And after getting the proper trial result, then only we decide to market the product. So, we always feel a responsibility to way-out to our business in long term with effective products.
"Trouw Nutrition is a very reputed and famous company. I think most of you are known about this company because of their premix and they have tremendous range of feed additives. So, I especially thank Dr. Saurabh and the management of Trouw Nutrition who selected AVON as an exclusive distributor of their products in our market. Hope, with their products our feed millers and farmers definitely can be benefited. And I am very much hopeful about their products. And with their cooperation from our feed millers and farmers, I think we can go a long way which is still combined"- added Mr. Sayeed Sarwar
Referring to Nutreco as a global leader Dr. Saurabh Shekhar, General Manager (Trouw Nutrition, South Asia) said, it is basically a family-owned company which was established in 1896 & it's a part of SHV. The company, which operates in 58 countries around the world with a workforce of about 55,000, had annual turnover of 22 billion euros in 2021. With research units in 12 countries around the world, the company employs 265 research experts and spends 24 million euros annually on R&D.
Dr. Saurabh said, We see that in India in South Asia, not only in South Asia, but we see that global warming is also disturbing. And at this point of time, the choice of right products to give our farmers which would improve performance is our responsibility. Obviously, the products need to be related to solving existing and potential problems, and it needs to be something that can be substantiated by science.
Dr. In-Sun Yu, Region Program manager -Minerals,TN Global discussed the title 'The Next Generation of Trace Minerals Nutrition' in that seminar. At that time, she shed light on why mineral sources are important in poultry production. She also discussed in detail about the importance of minerals in addition to their various types, uses etc. She highlighted on Trouw Nutrition's latest innovation, 4th generation trace minerals "Intelliopt".
Dr. Stuti Baruah, Program Manager-Feed Safety, TN India discussed the title 'Decoding Feed-to-Food Safety with Trouw' in that seminar. In her speech in bold she said, Moisture management can be optimally reached by application of MMP programs with dosing equipments. Blend of organic acids with ActiProp technology is Trouw Nutrition's comprehensive program for moisture management & shelf life. Good dosing systems ensure consistent quality.
She also presented detailed information about Fylax® Forte-HC Liquid.
An open question and answer session was organized at the end of the presentation. A Raffle draw fun session also held at the later part.
Mr. Md. Mahabub Hasan, Executive Vice President, Avon Animal Health delivered a vote of thanks on the occasion.
At the seminar, Business Manager of Bangladesh Dr. Md. Abdur Rob; Application Engineer, Mr. Mahfuzur Rahman;  Brand Manager (Trouw Nutrition India) Shilpi Agarwal; Dr. Bikash Chandra Biswas (Technical Manager, Avon Animal Health) & various level officials of Avon Animal Health were present.