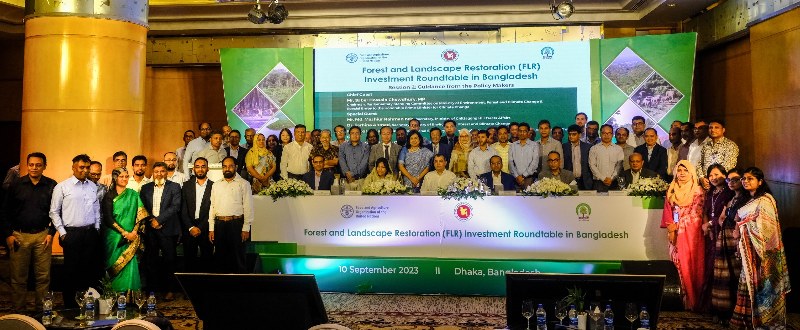 International  Desk: The Bangladesh Forest Department, with the support of the Food and Agriculture Organization of the United Nations (FAO), today (10 September) held an event designed to promote forest and land restoration (FLR).
While large gains have been made in developing environmental policies, guidelines, and legislation, Bangladesh has seen severe environmental degradation over the past decades and continues to face increasing disaster risks exacerbated by climate change. Indiscriminate land use changes, overexploitation, and urbanization, have heavily impacted the environment and the livelihoods of millions of people.
Restoring degraded landscapes and shifting to sustainable practices such as agroforestry would help to address the negative impacts of climate change, such as increased prevalence and severity of droughts and landslides, as well as to conserve biodiversity and enhance soil health.
Today's forest and landscape restoration investment roundtable, held in Dhaka, brought together a range of experts from the government, businesses, and civil society. The guest of honour was Saber Hossain Chowdhury, Honourable Chairman of the Parliamentary Standing Committee on the Ministry of Environment, Forest and Climate Change and Special Envoy to the Honourable Prime Minister for climate change. Special guests were Farhina Ahmed, Secretary, Ministry of Environment, Forest and Climate Change, and Md. Mashiur Rahman NDC, Secretary, Ministry of Chittagong Hill Tracts Affairs. The roundtable was chaired by Amir Hossain Chowdhury, Chief Conservator of Forests, Forest Department.
Nur Ahmed Khondaker, Assistant FAO Representative (Programme), made the opening remarks. He said: "This initiative will help to generate the pragmatic solutions needed to combat the degradation of forest ecosystems and reduce biodiversity loss in Bangladesh."
The roundtable was organized through an FAO regional project to scale up forest and landscape restoration in six countries. The other countries are Nepal, Pakistan, Lao PDR, Papua New Guinea, Timor-Leste. The project is part of FAO's Hand-in-Hand initiative which supports the implementation of nationally-led programmes that accelerate agrifood systems transformation through a partnership-building approach.
The roundtable aligns with the country's commitment to international climate action agreements such as the Paris Agreement which requested each country to outline their post-2020 climate actions, known as their nationally determined contributions (NDCs). Bangladesh's NDC describes plans to restore degraded forest and coastal areas, for which sustainable financing is important.
Illias Animon, Forestry Officer for FAO's Regional Office for Asia and the Pacific, said: "The roundtable is a valuable opportunity to advance investments towards achieving the country's restoration targets. More targeted and focused investments are needed, and partners should work together more closely to promote synergies for scaling up FLR. That is critical if we want to achieve the Sustainable Development Goals."
What is forest and landscape restoration?
Degradation of forests can have severe negative local impacts and far-reaching consequences, including soil erosion, loss of biodiversity, greenhouse gas emissions, dust storms, diminished livelihood opportunities and reduced yields of forest products and services.
Reversing the adverse conditions requires urgent and scaled-up action, through scientific and holistic landscape-level restoration approaches, balancing both socio-economic and environmental goals and the diverse needs of various sectors and stakeholders in the landscape. The FLR approach has gained momentum in recent years. The concept is based on the recognition that trees and forests comprise critical components of rural landscapes and that diversification at landscape levels can enhance ecological and socio-economic resilience while accommodating different site conditions and land management goals.