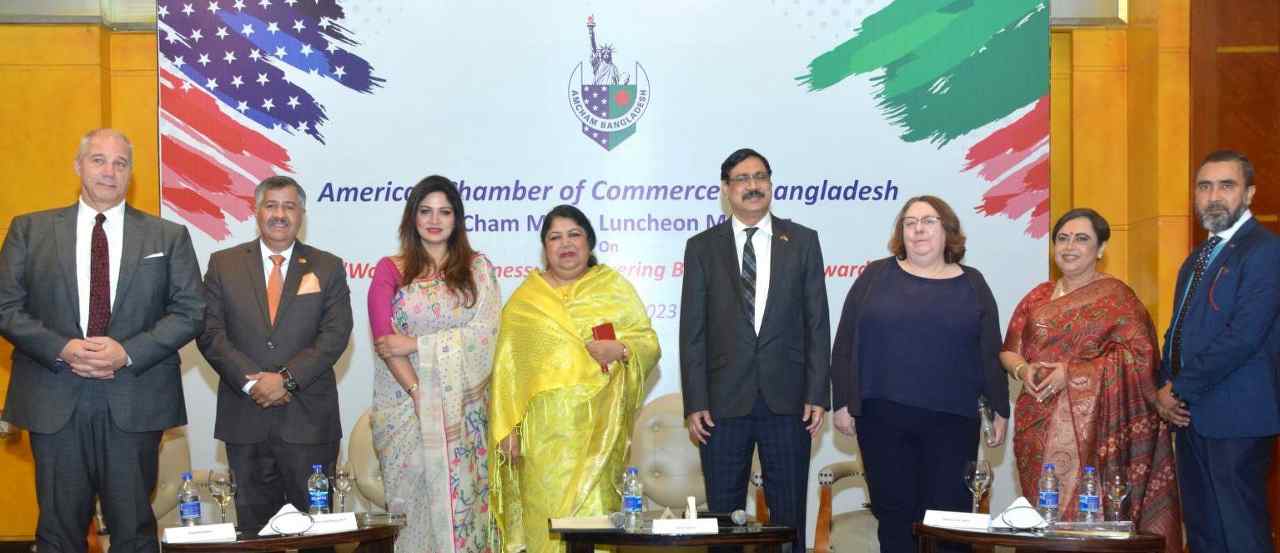 Agrinews24.com: The American Chamber of Commerce in Bangladesh (AmCham) held its monthly Luncheon titled "Women in Business: Empowering Bangladesh Forward" Last day (Monday, 6 March) at the Westin Hotel, Dhaka. Dr. Shirin Sharmin Chaudhury, M.P, Honorable Speaker, Bangladesh National Parliament, Government of the People's Republic of Bangladesh, attended the event as the Chief Guest & Ms. Helen LaFave, Deputy Chief of Mission, U.S. Embassy Dhaka attended as the Guest of Honor and Mr. Syed Ershad Ahmed, President – AmCham joined as the Session Chair.
On the occasion a discussion was organized where Ms. Rubaba Dowla, Country Managing Director-Bangladesh, Nepal, Bhutan, Oracle Bangladesh Limited moderated the discussion where Ms. Meherun N. Islam, President & Group Managing Director of CEMS Ltd and Guest of Honor Ms. Helen LaFave, DCM, U.S. Embassy Dhaka participated as the designated discussant. Mr. Syed Mohammad Kamal, Vice President-AmCham and the Country Manager, Mastercard –Bangladesh coordinated the event and offered the vote of thanks.
Members of the Chamber including the Executive Committee Members, Executive Director, AmCham, and former Presidents, foreign dignitaries, business leaders, media representatives and other distinguished guests attended the meeting.