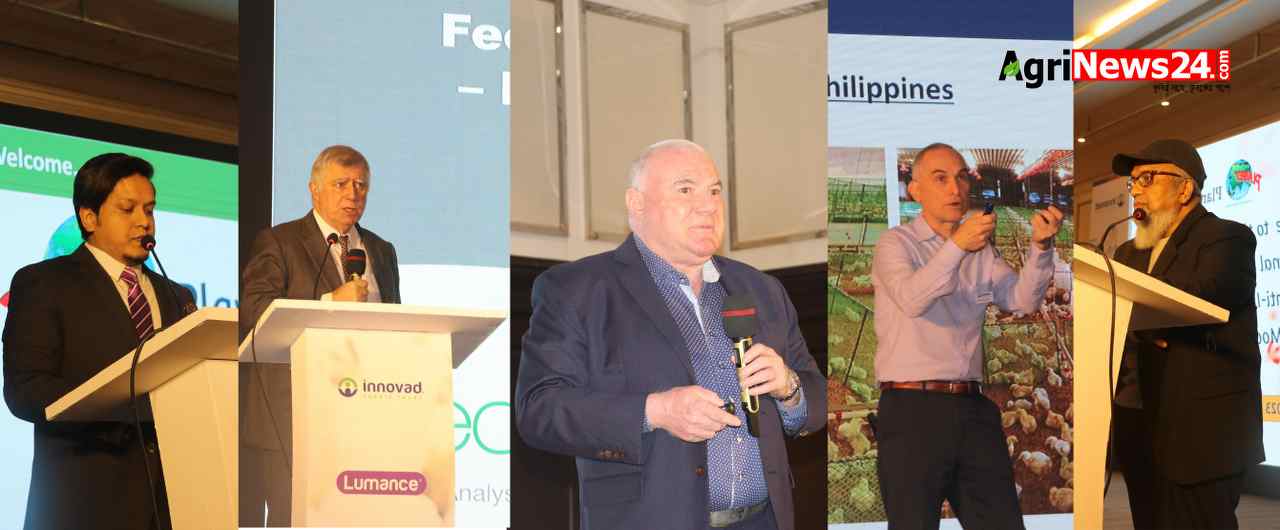 Staff Correspondent: In Bangladesh, Planet Pharma & Innovad® have built a relationship that embraces openness, shares ideas and opens up innovation in a sustainable manner. Innovad® has already become a global brand in the last 10years. At Innovad, we always stand behind our values bringing innovative solutions with focus on our client profitability combined with increasing safety of animal products within the food chain, in line with the ever-demanding consumer behavior. We are proud of being active in our industry for over 35 years with a proven track record of our achievements as a team. The market for Innovad® products is expanding day by day in the Bangladeshi market which makes us grateful and inspired at the same time.
Speakers coming to the seminar titled "Nutritional Intestinal inflammation challenges and anti-inflammatory biomarkers in modern poultry" in Dhaka said these things. The world-renowned feed additives company Innovad® and the well-known company of the country's animal health services sector Planet Pharma Ltd. jointly organized the seminar on Tuesday (January 10) at La Meridien Hotel in the capital. It was attended by poultry experts, entrepreneurs, nutritionists and high-level officials of various organizations from the country and abroad.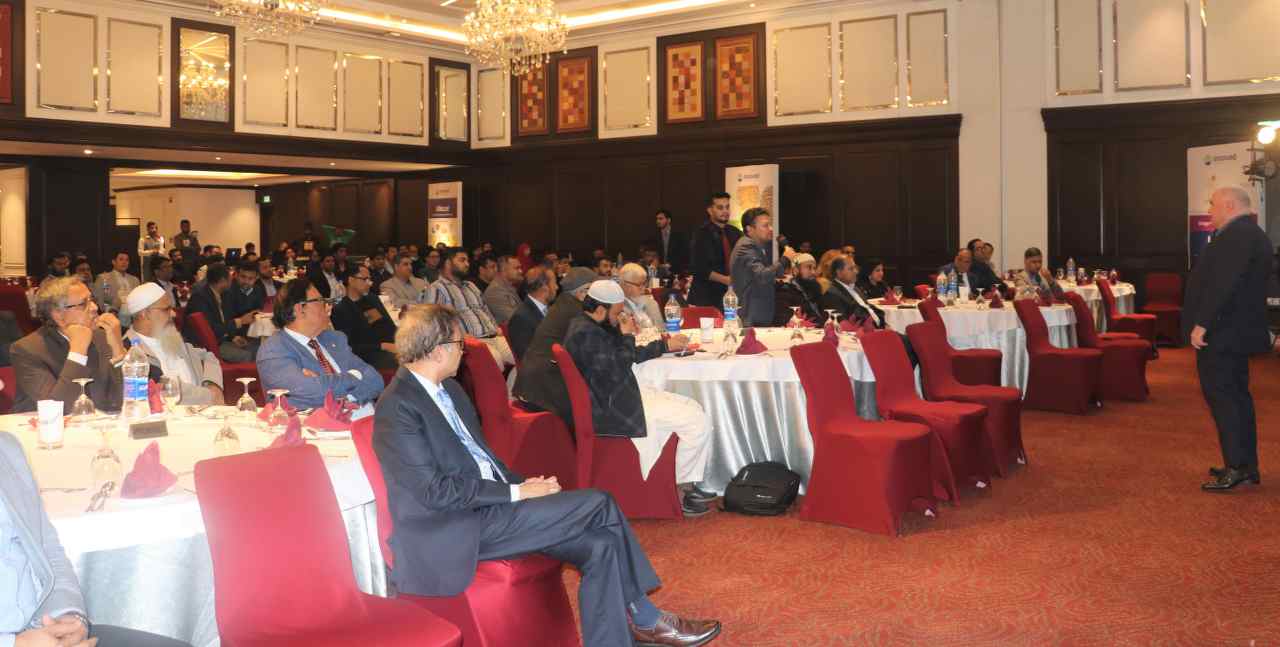 Mr. Robert "Bob" Nichol, Director Asia Pacific, INNOVAD® ASIA PACIFIC PTE LTD introduced the speakers and briefed about Innovad® to the guests at the seminar. He said, innovate has three manufacturing factories, two of which are located in Belgium and one in Italy. Innovad® products and services are available in more than 70 countries around the world. He also briefly discusses various products manufactured and marketed by Innovad®, which include Lumance®, Novinox®, Novimold®, ConSept®, Maxilys®, Novyrate EB®, Aflocox®.
Mr. Matthew Clark, Director, FeedGuys Resources Pte Ltd. presented two technical papers titled "Economics and ROI of DDGS in Poultry Diets" and"Implications of changing Raw Material Quality – Nutritional inflammation influences" at the seminar.
Mr. Matthew Clark Said, DDGS is a good ingredient to demonstrate formulation technique. It's a byproduct and can vary as it is not the primary process. New types of DDGS with additional fermentation emerging. But Important to know the type on offer from different suppliers. Frequent NIR analysis and data entry into formulation is also important here. 'Need awareness of mycotoxin presence of risk'- he added.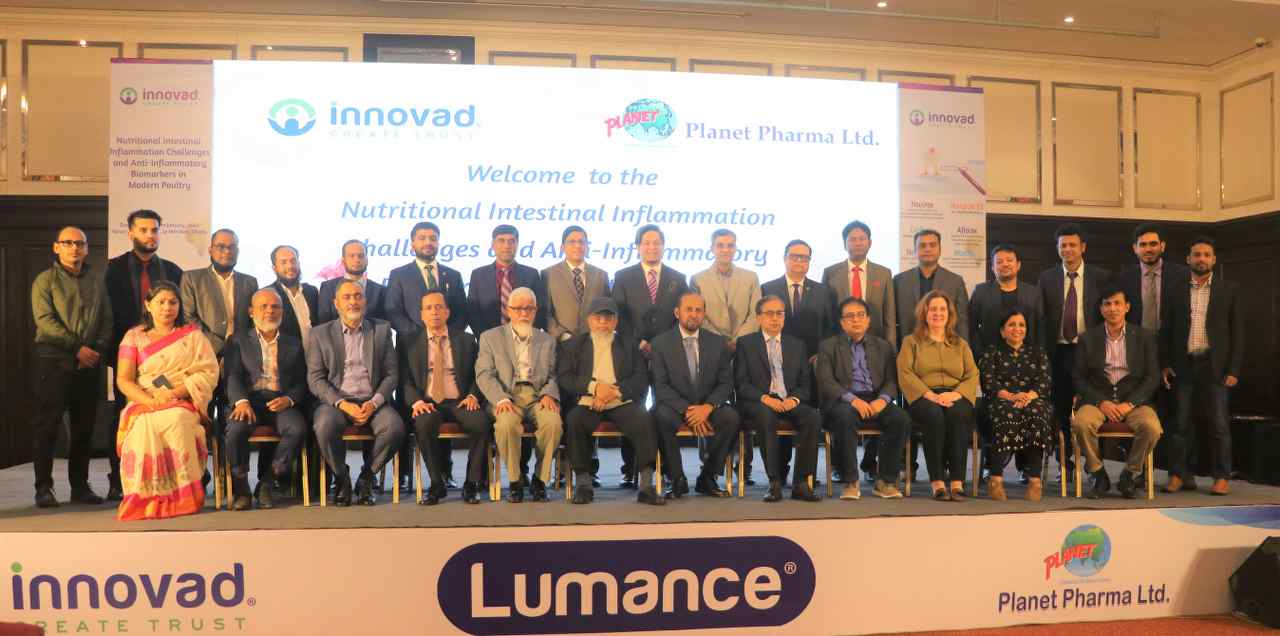 Mr. Clark said, Feed cost reduction is a more effective commercial argument. He suggests to avoid the trap of paying less for an ingredient. Feed stability can be lost quickly from surges in gut challenges and inflammation. Farmers buy stability. We need farmers stability to collect on feed sales.
Dr. Christos Gougoulias, Head of Innovation, Innovad® was discussed titled "Anti-inflammatory Biomarkers of the Intestinal Track of Poultry – Tract of Poultry" in the program.
Dr. Christos said, any type of inflammation reduces animal performance. Discussing one of Innovad®'s unique products (Lumance®) in the country's market, he said it enhances gut integrity, controls pathogens, improves flock uniformity, helps in increasing chicken performance and immune system.
Planet Pharma Director Mr. Shah Fahad Habib said, Innovad® created trust among their customers and in Bangladesh context Innovad's products are already very popular. They have already created trust among our customer by supplying better quality products with consistent results that's why they have been using Innovad's product 3-4 years continuously.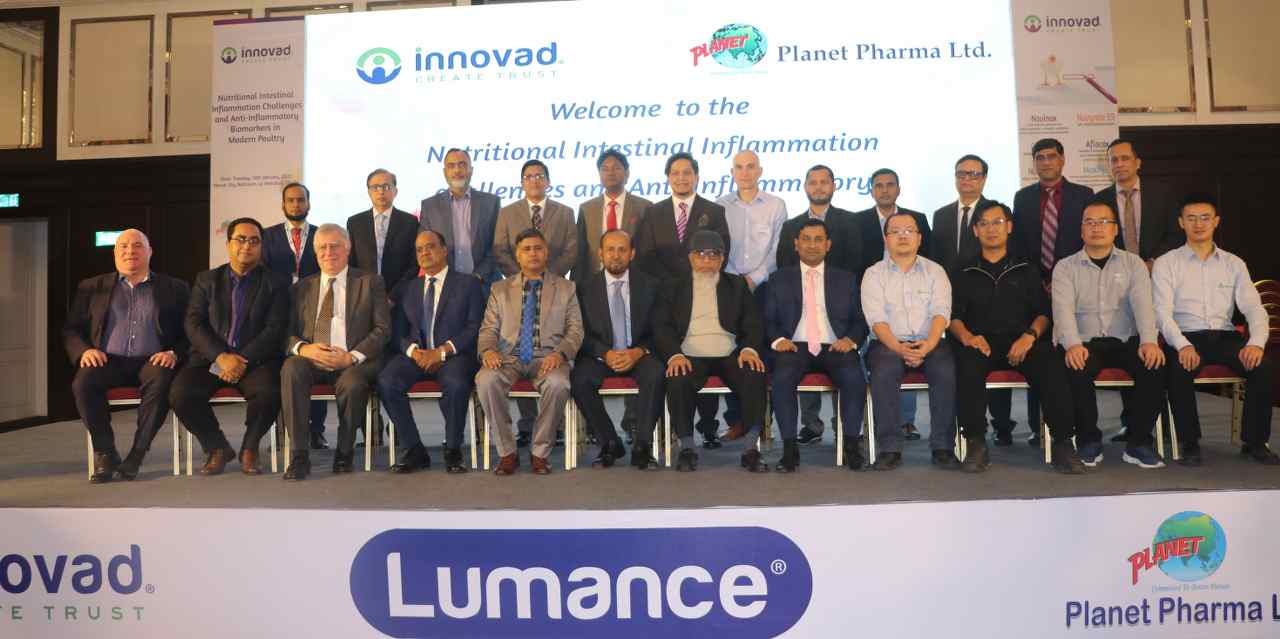 "Another point I want to share with you, few of our customers have already done trial 2-3times consecutively and after receiving better results they started using Innovad's products. So, it is a matter pride to become a partner of Innovad® in Bangladesh. Since the inception of our business relation, the cooperation from Mr. Ben Letor, CEO & team Innovad® have been very promising. I would really like to thank Mr. Bob for organising today's seminar and created an opportunity for us to meet our customer and well-wishers at the beginning of this year" -added Mr. Fahad.
Mr. Shah Habibul Haque, Managing Director of Planet Pharma Limited delivered the closing speech in the seminar. He said that the country's poultry sector is going through a very crucial moments from the last 3 years. Every small and big farmer, feed millers, hatchery's and all those related to the sector are suffering from losses. As the price of every essential raw material skyrocketed, it became difficult to sustain the business. To get rid of this situation all of us including the policy makers have to take the right decision at the right time.
After the presentation of the technical papers in the seminar, the Innovad® experts answered each and every question of the guests fluently. Interesting raffle draw and prizes were also organized in the seminar. Planet Pharma Ltd. Director Mr. Musleh Uddin and Mr. Badrul Hasan Khan among others were present in the event.
Planet Pharma senior executive Mr. Mohammad Riaz Ghauri played the role of host in the event.