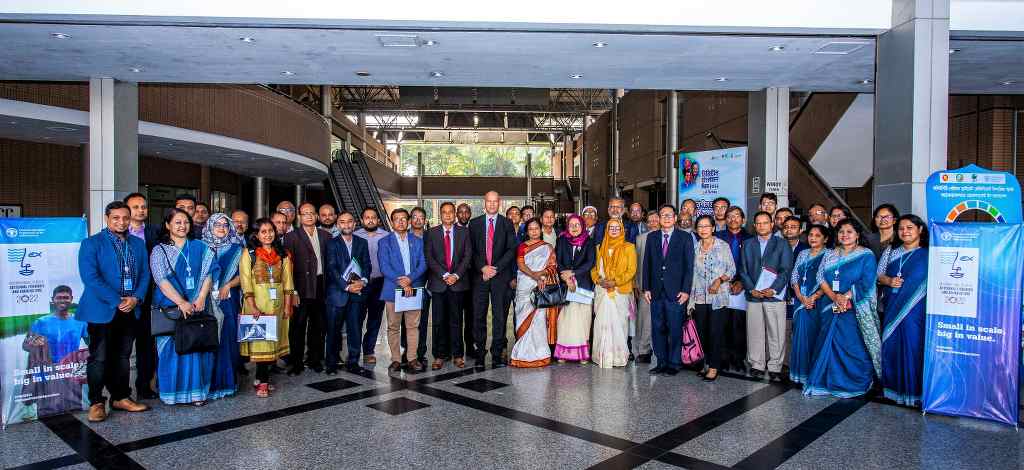 Staff Correspondent:  The impact of climate change on the country's fisheries sector was the focus of a national dialogue held today to mark the International Year of Artisanal Fisheries and Aquaculture 2022.
The Food and Agriculture Organization of the United Nations (FAO) is the lead agency for celebrating this year, in collaboration with other bodies of the United Nations.
More than one million people in Bangladesh depend on small-scale fisheries and aquaculture for their livelihoods. Nearly 90 percent of all marine capture in Bangladesh is from small-scale or artisanal fishers. The small-scale fisheries sector, which women play an important role in, tends to be firmly rooted in local communities, traditions and values. Many small-scale fishers are self-employed and usually provide fish for direct consumption within their households or communities.
Participants at the dialogue, which was held at Bangabandhu International Conference Centre in Dhaka, included representatives from government departments, development organizations, local communities, and the private sector. The dialogue was chaired by Kh. Mahbubul Haque, Director-General, Department of Fisheries. Chief guest was Dr. Nahid Rashid, Secretary, Ministry of Fisheries and Livestock.
Speakers at the event acknowledged the contribution that small-scale fisheries and aquaculture make towards sustainable development in Bangladesh, highlighted the importance of women, and stressed the impact of climate change.
Robert D. Simpson, FAO Representative in Bangladesh, said: "Small-scale fishers in Bangladesh make an invaluable contribution to the country's food and nutrition security, as well as the rural economy. FAO is committed to working with the Government of Bangladesh to strengthen the fisheries sector, with a focus on helping fishing communities adapt to the effects of climate change."
Communities that depend on fisheries and aquaculture are at the forefront of climate change impacts. FAO is working to help these communities adapt. Norman, FAO's Senior Technical Advisor for fisheries and climate change, said: "Climate change is having profound impacts on fishery and aquaculture-reliant communities and the ecosystems they depend on, especially in tropical regions. Through capacity development and policy reform, FAO in Bangladesh is helping to build resilience in these communities so that they are better able to cope."
The global food system faces many complex challenges, including hunger, malnutrition and diet-related diseases, an ever-growing global population that needs sufficient and healthy food, the need to reduce food loss and waste, the depletion of natural resources, and effects of climate change.
Fish, molluscs, crustaceans and aquatic plants are fundamental, essential and indispensable foods eaten by people around the world as part of healthy diets. Small-scale artisanal fishers and fish farmers produce a large portion of this food, and as such, IYAFA 2022 is an opportunity to highlight the importance of small-scale artisanal fisheries and aquaculture for our food systems, livelihoods, culture, and the environment.
Small-scale fishers and fish workers account for 90 percent of the people who work worldwide in capture fisheries values chains—with 492 million people depending at least partially on small-scale fisheries for their livelihoods. In Bangladesh, artisanal fisheries contribute an estimated 87 percent of the total marine capture. The produce provides protein and essential micronutrients such as omega-3 fatty acids, calcium, selenium and zinc.