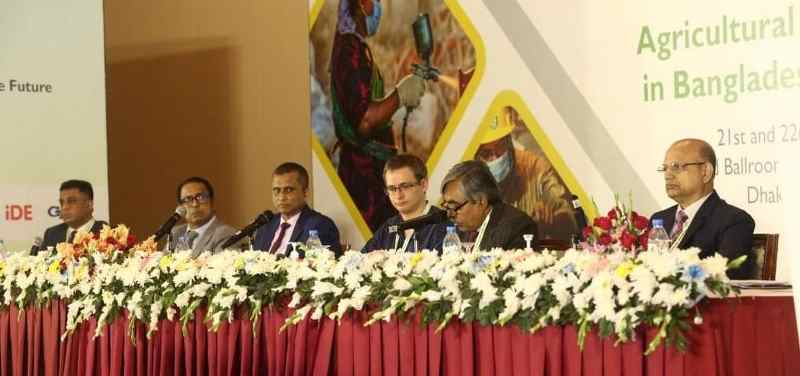 Staff Correspondent: A two-day workshop on "Agricultural Mechanization in Bangladesh-The Future" started on 21st March 2022 by USAID funded Feed the Future Bangladesh Cereal Systems Initiative for South Asia- Mechanization and Extension Activity (CSISA-MEA), in collaboration with Bangladesh Agriculture University at Pan Pacific Sonargaon, Dhaka.
Bangladesh has made great strides in mechanizing many aspects of agricultural production since the early 1980´s when manual labour and animal power were common. There is, though, still a long way to go before agriculture in Bangladesh is appropriately mechanized. For example, almost all of the 11.5 million hectares of rice planted,  and the 50 million tons of rice harvested each year, are transplanted and harvested manually. Farmers however find it challenging to find and afford labor for this purpose. The private sector has responded to this through the aggressive promotion and sale of mini combine harvesters and rice transplanters and the government through the provision of subsidies on the sale price of a range of machines including combine harvesters and rice transplanters.
This  two-day workshop has reviewed progress made with the introduction of agricultural mechanization technologies; within this context the workshop will seek to identify opportunities for appropriately mechanizing crop production operations that are still partly or fully done manually. The workshop also addresses constraints to accelerating the pace of mechanization and the required changes in government and private sector policy that will make that happen. Participants from across Bangladesh's leading research institutes and the private sector will discuss how the Bangladesh light engineering sector could be supported to manufacture agricultural machinery and spare parts for domestic as well as international markets. Participants are also addressing work to support that rural women and youth and ways in which farm mechanization can foster employment in the agricultural machinery sector and establish agricultural mechanization based businesses. Finally, innovative ways of financing agricultural machinery manufacture, sales and service provision was  highlighted.
This two-day workshop will had four sessions in which the results of studies and position papers specifically conducted and prepared for this workshop will be presented. First day was inaugurated by Dr. Muhammad Abdur Razzaque, MP, Minister, Ministry of Agriculture. Special guest was Mr. Md. Sayedul Islam, Secretary, Ministry of Agriculture. Dr. Shaikh Mohammad Bokhtiar, Executive Chairman, Bangladesh Agricultural Research Council (BARC) and  Dr. Muhammad Khan, Acting Director, Office of Economic Growth (USAID), Dr, FH Ansery, Managing Director, ACI Motors were also present in the opening session. Dr. Timothy J. Krupnik, Country Representative, International Maize and Wheat Improvement Center (CIMMYT) Bangladesh and Prof. Dr. Md. Monjurul Alam, Department of Farm Power and Machinery, BAU explained the session plan and welcomed all on the day one. In the inauguration session the minister has expressed his enthusiasm and support for agricultural mechanization in Bangladesh and he appreciated collaborative work toward agricultural mechanization.
On the second day there were two sessions. One was on `Manufacture of agricultural machines and spare parts' and second was `Access to Finance and business development'. Dr. Ansery Conducts the second session Access to Finance and business development'.
Prof. Dr. M.A. Sattar Mandal, Emeritus Professor in the Dept. of Ag. Economics & Former Vice-Chancellor of Bangladesh Agricultural University, Mymensingh (BAU), Former Member of Planning Commission (Gen. Econ.; Agriculture), Govt. of the People's Republic of Bangladesh made the closing remarks.
More than 200 people from different organizations participated, in addition more than 50  participants connected by zoom. This two-day workshop will be ended on 22nd March 2022.