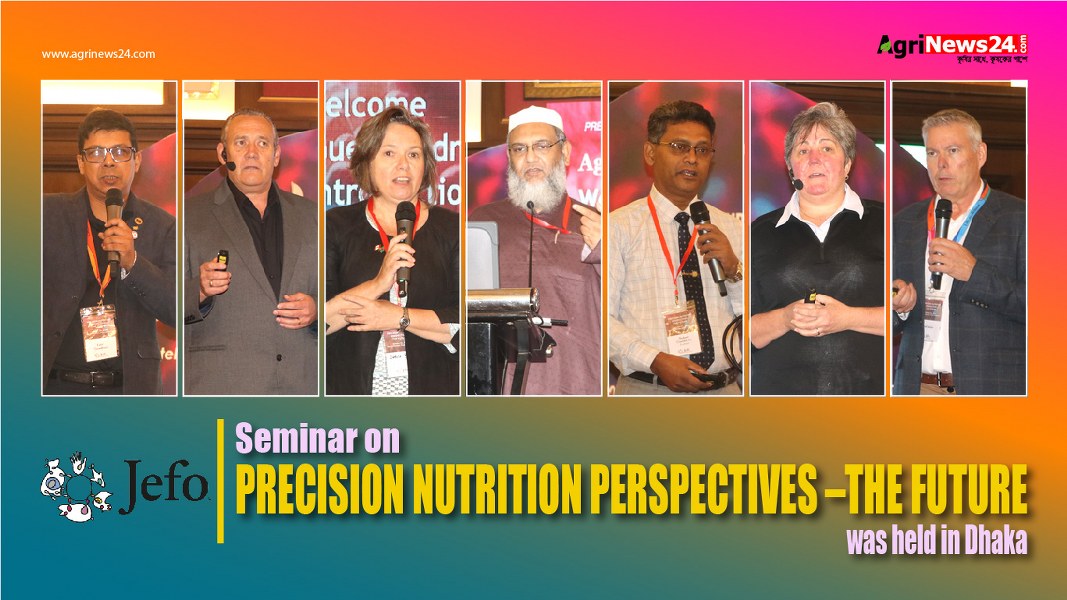 Agrinews24.com Report: A seminar on – "PRECISION NUTRITION PERSPECTIVES –THE FUTURE" was held on THURSDAY (26 October) at the Le Méridien Dhaka Hotel. The Seminar was organized by Jefo Nutrition Inc. In addition to Ms. Deborah Boyce Charge de Affairs, Canadian High Commission, Bangladesh; BPICC (Bangladesh Poultry Industries Central Council) President Mr. Shamsul Arefin Khaled including various feed millers, nutritionists, consultants, high official of poultry companies from the country and abroad were present there.
At the beginning of the seminar Dr. M.A. Kabir Chowdhury, Sales Director (South Asia) Jefo Nutrition Inc., warmly congratulated everyone through his thanks giving speech. At this time, he introduced the expert speakers to the guests coming to the seminar. Apart from playing the role of moderator, Dr. Chowdhury highlighted various aspects of Jefo's technology, products & business services.
Ms. Deborah Boyce Charge de Affairs, Canadian High Commission, Bangladesh said, this is a very important event for us. we're very much looking forward to the outcomes and we think that this is a very positive step for our bilateral.
She said that, Canada has very strong and warm ties with this country. We were one of the first nations to recognize the independence of Bangladesh. Since 1972, we have delivered more than $4 billion in development assistance, but our relationship has evolved in many ways since then.
"Bangladesh being our third biggest market for pulses, for lentils. Bangladesh is a major market for our wheat, major market for our fertilizer, our potash. We want to push our trade and investment relationship beyond exports. We want to look at innovation. We want to look at R&D. We want to bring innovative Canadian companies to Bangladesh, like Jefo For me, it is a great source of pride as government, a pan-independent representative" -added Deborah Boyce.
BPICC president Mr. Shamsul Arefin Khaled said, the problem is in Bangladesh is not about the quality of our feed, but also the affordability of our fee feed. And as we have to deliver both the quality and also the safety of the reliability and also the sustainability of the availability. So, the company like Jefo has the capacity to change the whole structure of the sector, and also the capacity of our small holders in order to improve not only the quality but also the efficiency.
BPICC president also said, Hopefully the Jefo will help us to develop a new poultry industry which can able to deliver not only the quality but also the good affordability or the affordable price and ensure that price of our chicken and the egg, which is very important as Bangladesh is still developing country maybe after 2026 through the middle-income range and keep the middle-income range.
"We Bangladeshi wants our industrial country to transform the middle income to the upper income within 10 to 15 years and it cannot be done without the rural economy and the rural people and industry like the poultry and the agriculture-based industry. So hopefully Canada helps us in order to improve the quality of the housing practices and the efficiency of our farmers and not only the quality and also help us to build a new structure of our industry. And I think that is very, very important for us" – added Mr. Shamsul Arefin.
Professor Shubash Chandra Das from Bangladesh Agricultural University discussed the title "The Poultry Industry in Bangladesh" in that seminar. He said that, I must grateful Jefo because we have a very good relationship. We are mentoring last couple of years and in professional relationship we have doing some research works collaboratively. So, we published this paper recently in European Journal of Agriculture and Food Sciences good journal.
Prof. Shubash also said, The recent past history of the poultry industry was memorable, magnificent & very excellent. That was the first history. That time, some of the pioneer, some of the industrialists who become interested to invest in this sector and in fact came into 90 this horizon of expansion was reminded I must say and this growth and expansion continued until 2007. If you look back 30 years, 40 years but present in my consideration is challenging and it is unknown what will be the next but to me next will be more challenging.
At this time, he mentioned the issue of permission to import eggs and punishing commercial farmers for market manipulation as a matter of deep concern.
Global Poultry Technical Manager of Jefo Canada presented two technical papers in that seminar. One of these titles was "Reduced Antibiotic Production in North America" and another was "Beyond Protein Digestibility: Dietary Protease to Manage Gut Health".
Mr. Derek Detzler Said, I'm sure a lot of you have seen coccidiosis breaks when using chemicals coccidial. But more interestingly, we're seeing resistance develop to the ionophores. And some of you in here may notice when using an ionophore aid coccyl, we see subclinical disease, we see some nephrotic anemritis, not full blown, but we see a loss of performance related to coccidiosis. But I tell you, when we first introduced those ions four anticoxidios into the market, we didn't see this. So why are we seeing it now? Because we're seeing a lot of efficacy. These products, they're still good products, but we have resistance development.
"So for us, we decided to formulate a plan again, reduce antibiotic, use, restore efficacy some way somehow to these products. And just look at lengthening the time it takes to develop resistance. Because again, we felt if we could use these products less, that would prolong the life" -he added.
Mrs. Natalie Chrystal, independent technical and nutrition expert from New Zealand, discussed the title "Nutritional Considerations for Tropical Climates –Creating Harmony in the GIT"  in that seminar.
She said, Of course, as a consequence of the birds moving less, they reduce their heat intake. Right. But there's also hormonal regulation that occurs at this stage. Hormonal regulation drives down birds feed intake. Of course, this reduced feed intake reduces the nutrient supply to the bird. And as a consequence of that, you get this change in gut vitamin C, but also a change in the digestive PH and a change in the metropolitan of the digester.
We talk a lot about feed intake and we talk a lot about how bird movement happens and behavior changes when the birds are underneath. But I think what's becoming clearer to us now is that there's other consequences that we can observe in these birds as a consequence of heat stress" -added Natalie Chrystal.
Mr. Wayne Bradshaw Managing Director (Australia & New Zealand) of Jefo Nutrition Inc., has given the closing speech at the event. He detailed the history of Jeffo's inception to overall business, research and other activities. At this time, he showed the video message sent Dr. Jean Fontaine, the founder president of Jefo.
An open question and answer session was organized at the end of the presentation.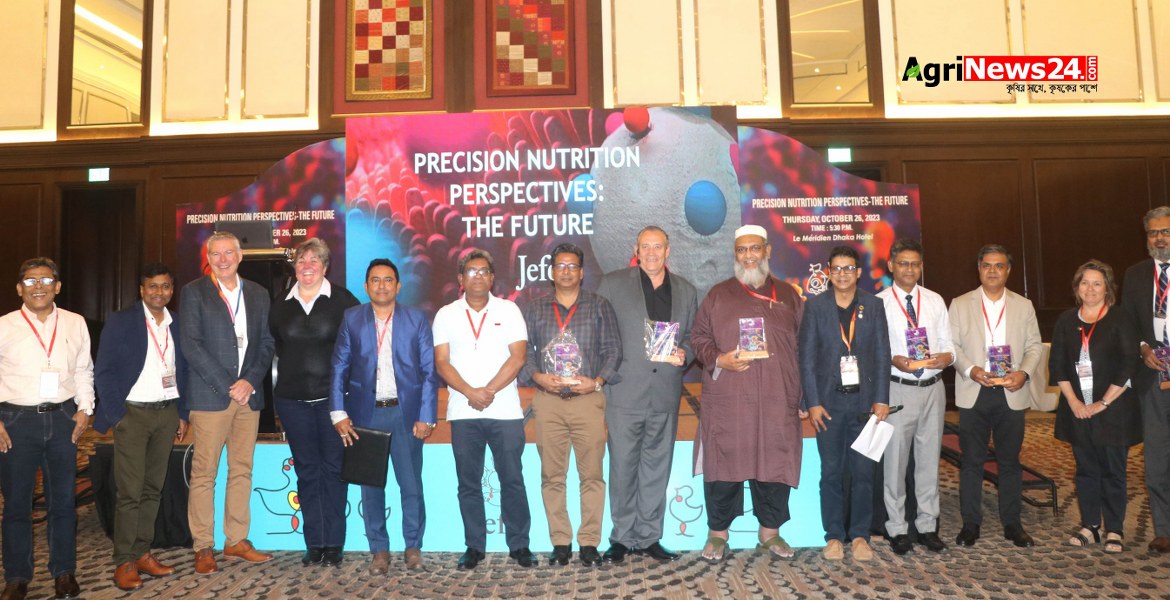 At the end of the presentation and question and answer session, a summary discussion of the seminar and distribution of crests to the visiting distinguished guests took place.
Dr. Pinky Roy Ingewar, Sales & Technical Support Manager, India was also present on the occasion. Also in attendance at the seminar the high officials from Jefo's local agent Adyan Agro and Penta Green.
Moreover, JEFO Nutrition Inc. sells basic animal feed products and innovative products as alternatives to antibiotics growth promoters (enzyme products, acidifiers coated).