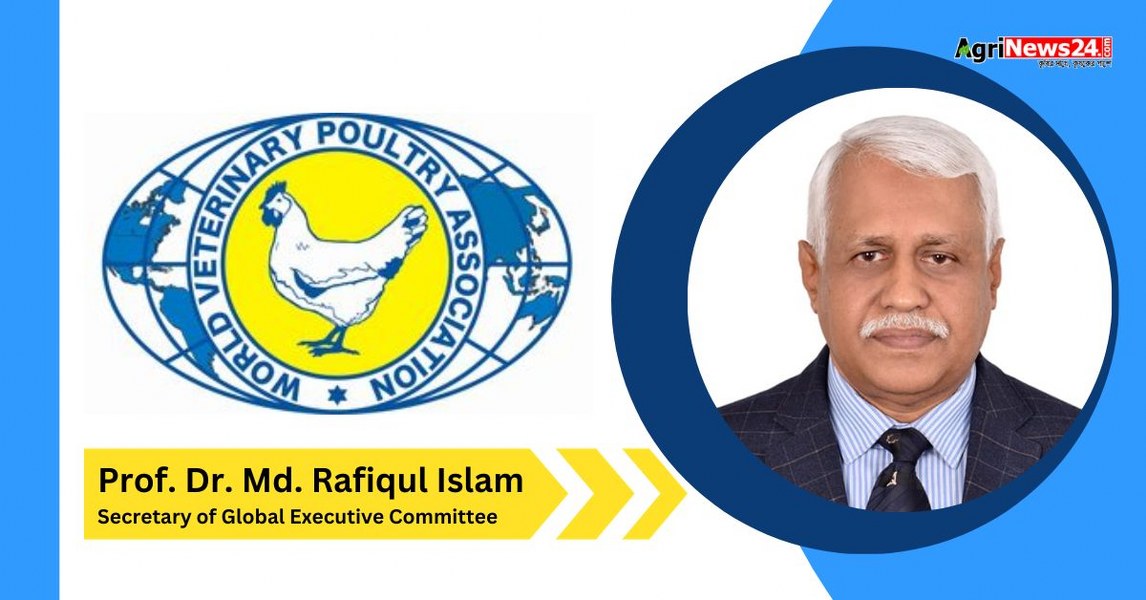 Agrinews24 International: Eminent Professor Dr. Md. Rafiqul Islam has been elected as the Secretary of Global Executive Committee of World Veterinary Poultry Association (WVPA). He is the first Bangladeshi to be elected to the post. He has been elected to the post at the XXII WVPA world congress held from  4 to 8 September, 2023 at Verona, Italy.
Prof. Dr. Md. Rafiqul Islam obtained his DVM and MSc (Vet Sc) degrees from Bangladesh Agricultural University, Mymensingh. He completed his PhD from the University of Liverpool, UK. He is a Humboldt Fellow at the University of Leipzig, Germany. At present Dr. Islam is a Professor of Pathology, Faculty of Veterinary Science, at Bangladesh Agricultural University. Prof. Islam is a member of the Bangladesh Veterinary Council. He is also working with FAO-ECTAD, Bangladesh as the Senior National Technical Advisor – One Health Education.
He is one of the founders of the Bangladesh College of Veterinary Surgeons. Prof. Islam received 'Bangladesh Academy of Science Gold Medal' and the 'Hall of Honor' award of the World Veterinary Poultry Association for his research and professional contributions.
The World Veterinary Poultry Association (WVPA) is a global professional association for poultry veterinarians and other avian health professionals. WVPA is run by an elected executive committee and holds a global congress every two years. Its members include academicians, researchers' government and non- government veterinarians and private practitioners around the world.
On behalf of WVPA-BB, Prof. Dr Emdadul Haque Chowdhury, President and Dr. Md. Nurul Islam Shawon, General Secretary express their heartiest congratulations and want many more success of the renowned professor.