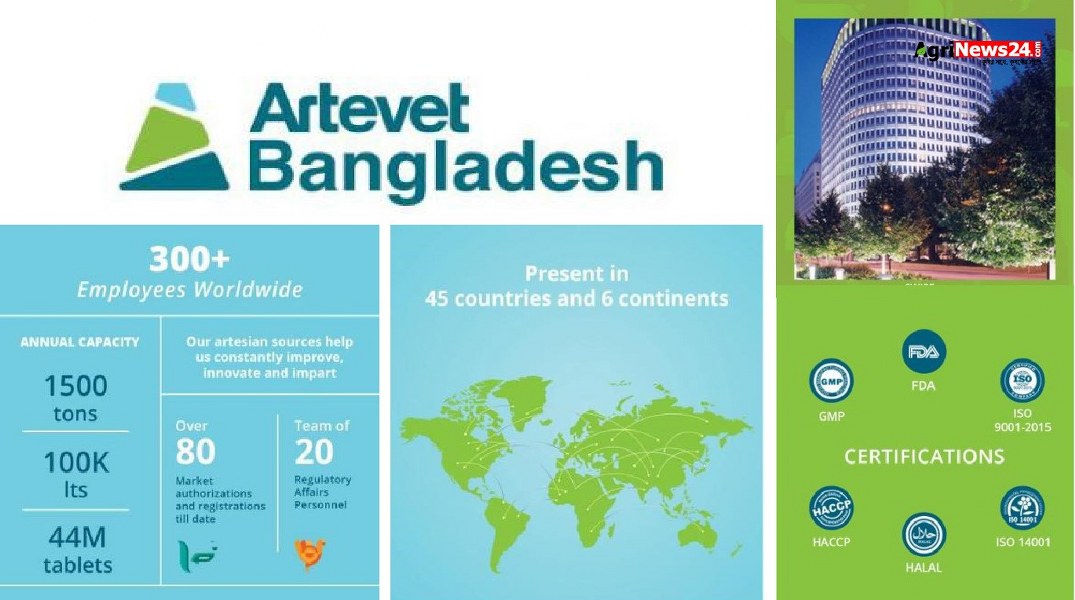 International Desk: Artevet is a global force in the animal health industry with efforts ranging from healthcare to technology. Artevet specializes in animal nutrition while constantly innovating and developing solutions to help the community around us.
Artevet LLC, a leading manufacturer of innovative veterinary solutions, is excited to announce the establishment of its subsidiary in Bangladesh, marking a significant milestone in the company's global expansion efforts. This strategic move underscores
Artevet's commitment to advancing animal health and well-being on a broader scale while strengthening their presence in Bangladesh. Artevet LLC has 2 manufacturing facilities in North America – one in Wilmington, USA and one in Alexandria, Canada. With all the international certifications like ISO, GMP, Halal, HACCP and more, Artevet is able to produce top quality products which are well suited for the international markets.
Artevet Bangladesh Limited will serve as a dedicated hub for delivering cutting-edge veterinary products, services and expertise to the dynamic and growing livestock industry in Bangladesh. This expansion aligns perfectly with the mission to provide veterinarians, nutritionists, farm & feed mill owners, and all the stakeholders with the tools and resources they need to ensure the health and benefit of animals in their care. Artevet Bangladesh will enable the same standard of product, quality and service offering to our customers directly while being competitve through our subsidiary. With the launch of Artevet Bangladesh, Artevet marks its 5th international office after Wilmington (USA), Alexandria (Canada), Jebel Ali (UAE), Mumbai (India). The on ground footprint is an addition to the market reach of over 50 countries spanning 6 continents.
Our aim is to introduce our range of additives and therapeutic solutions while also introducing vaccines as a part of the long term plans. With a view to provide our
internationally acclaimed products and some customized solutions for the Bangladeshi market, Artevet strives to increase its presence and activites in Bangladesh for an innovative and exciting journey ahead.
For more information, please visit the website at www.artevet.com or e-mail to bangladesh@artevet.com or contact as below:
Artevet Bangladesh Limited
House 51, Road 12, Sector 10
Uttara Model Town, Dhaka 1230
Bangladesh
Cell: 019-51-000751