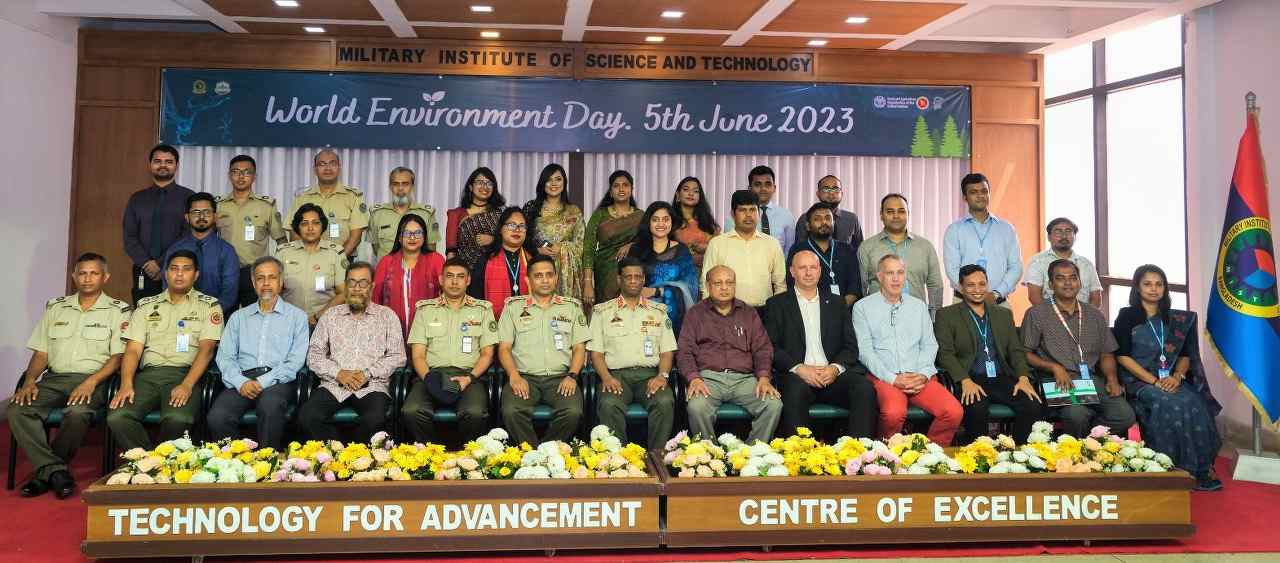 International Desk – To mark World Environment Day, the Food and Agriculture Organization of the United Nations (FAO) today calls for better management of plastics in agrifood systems.
This pressing issue was the focus of a panel discussion held at the Military Institute of Science and Technology (MIST) which brought together academia, researchers, government officials, business leaders, and youth representatives.
Over the last 70 years, use of plastics in agrifood systems and food value chains has become pervasive. Low-cost and adaptable plastic products have crept into every part of our food systems. While they can increase productivity and efficiency in all agricultural sectors and help minimize food loss and waste, plastics are a major source of contamination. Their widespread and long-term use, coupled with lack of systematic collection and sustainable management, leads to their accumulation in soils and aquatic environments.
#BeatPlasticPollution, the official theme for World Environment Day 2023, serves as a reminder that our actions regarding plastic pollution have significant consequences. Four hundred million tonnes of plastic are produced annually, with half designed for single-use purposes. Most agricultural plastic products are single use and can persist in the environment long after their intended use. Degrading into microplastics, they can transfer and accumulate in food chains, threatening food security, food safety, and potentially human health.
Today's discussion was organised by FAO's Pesticide Risk Reduction project in partnership with MIST and the Department of Environmental, Water Resources, and Coastal Engineering. Brigadier General Muhammad Wahidul Islam, SUP, was chief guest. Saso Martinov, who is leading the project, was special guest.
Nur Ahamed Khondaker, Assistant FAO Representative (Programme), who was guest of honour, said: "This is a challenge globally, not only Bangladesh, but we must recognise what a big problem this is and take action towards better management of plastics in agrifood systems, particularly in regard to plastics waste management."
Despite limitations in regional data, Asia is estimated to be the largest user of plastics in agricultural production, accounting for up to six million tonnes annually, almost half of global usage. The excessive use of plastic packaging for pesticides and other agricultural inputs has led to their uncontrolled disposal in farmlands and surrounding environments, posing severe pollution threats to agricultural produce and ecological harmony due to high concentrations of pesticide residues.
FAO's Pesticide Risk Reduction in Bangladesh Project, funded by the Global Environment Facility (GEF), is assisting the Government of Bangladesh to strengthen compliance with the Stockholm Convention on Persistent Organic Pollutants. The project is enhancing national capacity to manage and dispose of hazardous waste safely, specifically pesticide packaging which often comes in the form of plastic sachets or glass bottles.
The project's Senior Technical Advisor, Saso Martinov, said: "If not properly managed, empty pesticide containers are hazardous to the environment and humans. There is a risk that empty containers could be reused for storing food and water, resulting in pesticide poisoning. Containers left in the environment can pollute the soil and groundwater with pesticides."
Ultimately, tackling agricultural plastic pollution is paramount to achieving more efficient, inclusive, resilient, and sustainable agrifood systems for better production, better nutrition, a better environment, and a better life. FAO remains committed to leading the charge in mitigating the environmental challenges caused by agricultural plastics within the context of food security, nutrition, food safety, biodiversity, and sustainable agriculture. By harnessing the collective effort of government, the private sector, and youth, Bangladesh can reduce its plastics use and find better solutions to dealing with agricultural plastic waste.
Highlighting environmental concerns in Rohingya camps
A series of events – including planting trees, cleaning canals, and waste disposal – was held today in the Rohingya camps to highlight the importance of environmental conservation and sustainable practices.
The events organized jointly by United Nations agencies including FAO, the International Organization for Migration (IOM), the United Nations High Commissioner for Refugees (UNHCR), and the World Food Programme (WFP), in collaboration with the Energy and Environment Network.
Joy Galvez, FAO Emergency Resilience Programme Coordinator in Cox's Bazar, said: "We must come together as a community to ensure that we live in a clean and healthy environment. Within our own households, let us embrace sustainable and responsible consumption and reduce plastics use and so that we can protect our environment and our communities and create a better future for all."
Since 2018, FAO has restored 2 600 hectares of degraded forest land both inside and outside the camps. Around 200 000 Rohingya and host community members planted 2.8 million tree seedlings across 16 forest ranges and 34 Rohingya camps.