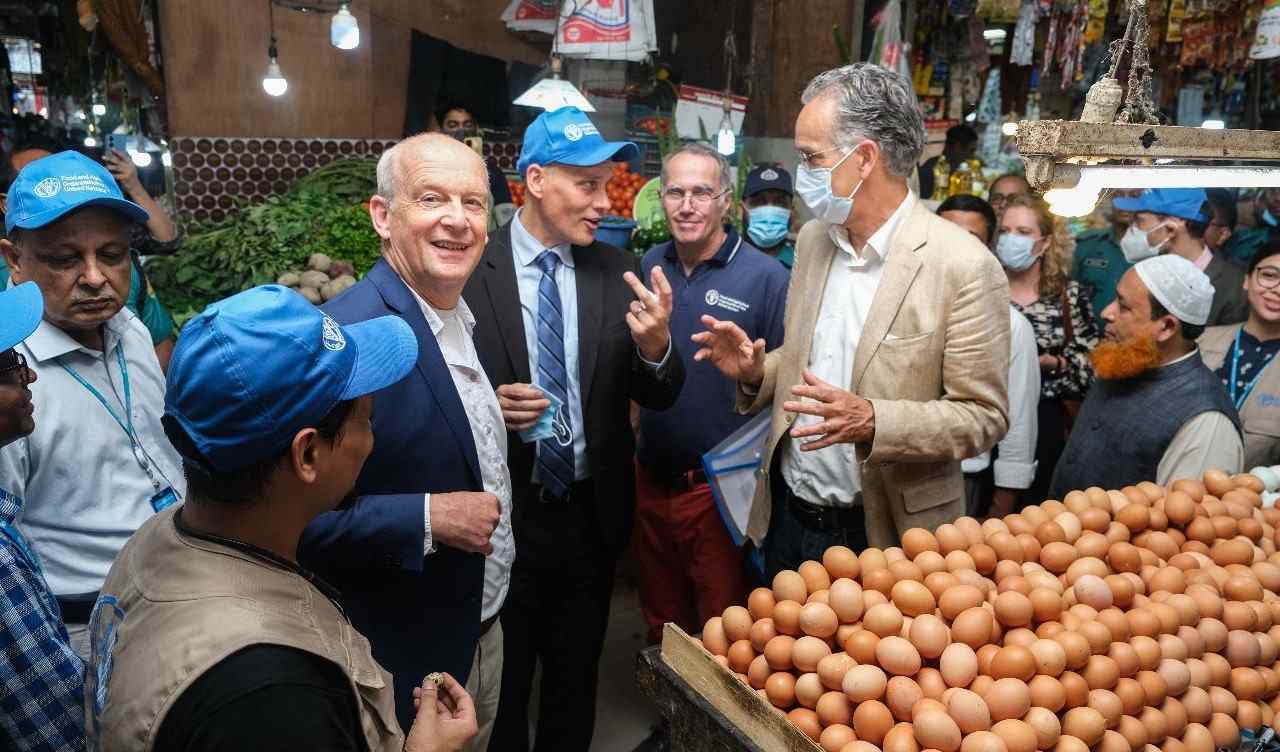 Staff Correspondent: The Dutch Secretary-General of the Ministry of Foreign Affairs, Paul Huijts, today visited a fresh food market in Dhaka, considered as a model for Bangladesh.
He was joined by the Ambassador of the Kingdom of the Netherlands to Bangladesh, Anne van Leeuwen. They spoke with vendors and members of the market committee as they toured the model market in Mohakhali. The market is one of two upgraded with technical support from the Food and Agriculture Organization of the United Nations (FAO), working with the city corporations and partners.
The markets have undergone a series of improvements, with enhanced training. They are designed to set the standard as cleaner, safer, more efficient places to sell fresh produce, as well as delivering a more pleasant experience for shoppers. Fresh markets are a key source of food, especially fresh produce for city dwellers. The vast majority of Dhaka's urban poor purchase most of their food from these fresh markets.
FAO's Dhaka Food System project, funded by the Kingdom of the Netherlands and working with Wageningen University & Research (WUR) in the Netherlands, helped to create the model markets as part of a wider goal to make the city's food system more inclusive, resilient, and sustainable. FAO is working to improve food safety and hygiene and promote healthy food, as priorities.
Robert D. Simpson, FAO Representative in Bangladesh, said: "Fresh markets are a great resource, providing a range of affordable, nutritious produce that millions of people in Dhaka depend upon and value. This is why it's so important to make them as hygienic, efficient, and enticing as we can. We are delighted that the Secretary-General and Ambassador were able take a closer look at one of these markets which is a great improvement on what was there."
The delegation was joined by Osman Haruni, Senior Policy Advisor for food and nutrition security at the Embassy of the Netherlands, as well as the FAO Representative, and Xavier Bouan, the head of the project.
Mr. Simpson added: "FAO is very thankful for the support of the Netherlands which has been so committed to supporting food and nutrition security in Bangladesh. Their consistent support has done much to enable the most food insecure households to access sufficient and balanced food."
Dhaka's fresh markets are usually crowded because of their popularity and can be cramped due to their locations, limited space in the city, and ageing infrastructure. At 130 markets across the city, FAO trained market committee members and vendors about food safety and waste management, as well as safety during the COVID-19 pandemic. Of these, ten pilot markets were equipped with specific waste bins for segregation. FAO worked with the Global Alliance for Improved Nutrition (GAIN) to upgrade facilities and improve the overall infrastructure of both the model markets, in Mohakali and at Mohammadpur Town Hall.
Over the last few years, the Dhaka Food System project, alongside all four Dhaka city corporations (Dhaka North, Dhaka South, Gazipur, and Narayanganj), have introduced innovations to the urban food system, focusing on improving food safety and ecological waste management.
The project is supporting the Government of Bangladesh to develop a strategic Dhaka Food Agenda 2041 through an evidence-based and multi-stakeholder approach.
What is a food system?
Food systems encompass the entire range of actors and their interlinked value-adding activities involved in the production, aggregation, processing, distribution, consumption, and disposal of food products that originate from agriculture, forestry, or fisheries. A sustainable food system is one that delivers food security and nutrition for all in such a way that the economic, social, and environmental bases to generate food security and nutrition for future generation is not compromised.