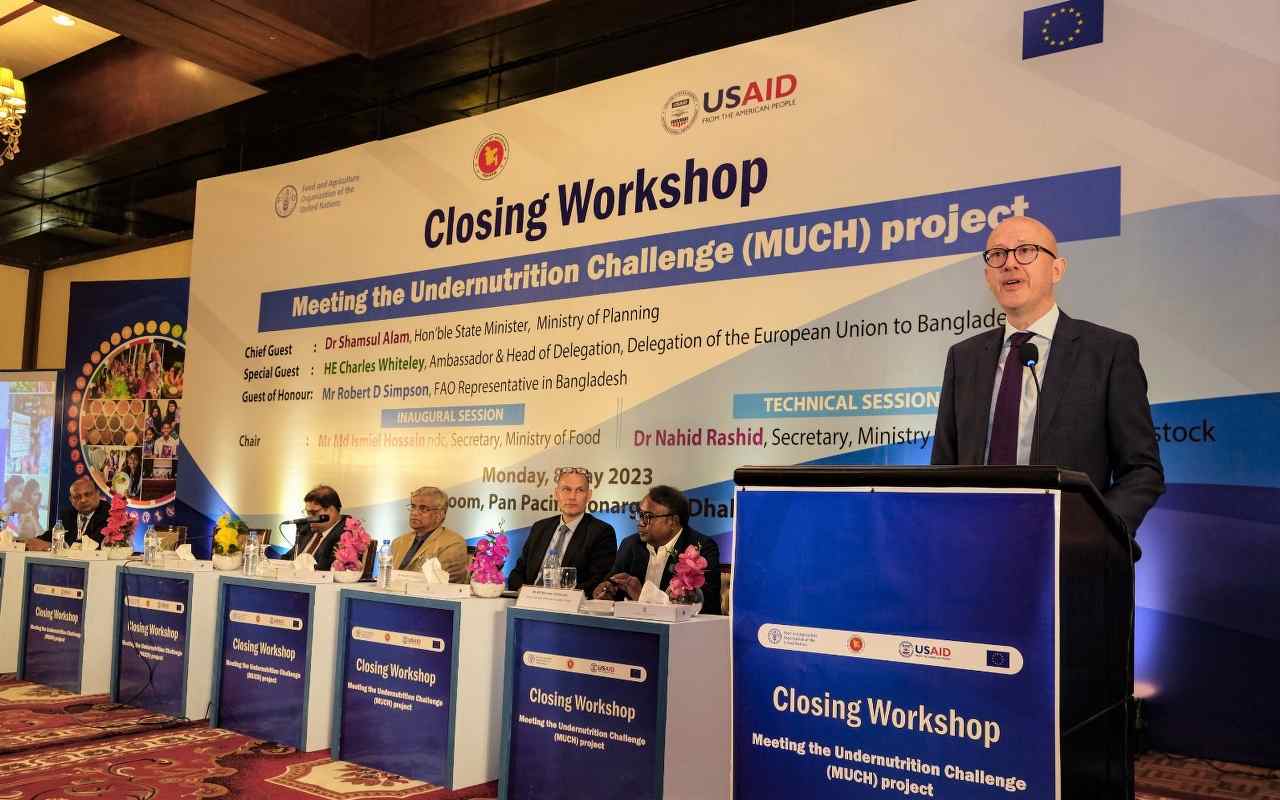 Staff Correspondent: A closing workshop was today held for the Meeting the Undernutrition Challenge (MUCH) project which over the last eight years has greatly advanced food and nutrition security and helped to attract USD 14 billion of investment to Bangladesh.
The project, implemented by the Food and Agriculture Organization of the United Nations (FAO), has supported the Food Planning and Monitoring Unit (FPMU) of the Ministry of Food to develop a policy framework and action plans to implement these policies, as well as investment strategies that have secured record funding. Dr. Shamsul Alam, State Minister, Ministry of Planning, was chief guest at the event which was held at a hotel in Dhaka.
FAO Representative Robert D. Simpson remarked that it was now time to implement the nutrition policies and guidelines that the project had helped to develop. He also highlighted the importance of a food systems approach which is based on the interconnectedness of food production, processing, transport, and consumption — recognizing issues such as sustainability, waste, and the impact of nutrition on people's health.
He said: "Now that Bangladesh has the policies and technical guidelines in place to improve people's nutrition, the focus needs to shift to implementing these policies through a multi-ministry, food systems approach. We need to help the poorest eat better, ensure healthy options for a large and growing urban population, and be attentive to new challenges such as obesity and food waste, as the country grows wealthier."
He added: "The Ministry of Food, FPMU, and the Bangladesh Food Safety Authority, are now well positioned to focus on identified priorities and to transition to delivering scaled-up policy implementation at pace."
MUCH was funded by the United States Agency for International Development (USAID) and the European Union (EU). Charles Whiteley, Ambassador and Head of the EU Delegation to Bangladesh, who was guest of honour, praised the project for helping to achieve Bangladesh's Sustainable Development Goals (SDGs) relating to food and nutrition security.
He said: "I would like to express my appreciation for the work undertaken by FAO under the MUCH project with support from EU. The outputs of the project contributing to the government's aim to achieve the SDG goals on food and nutrition security for Bangladesh's people are commendable. The EU acknowledges the valuable work done under MUCH to develop the appropriate policies, strategies, and investment programmes to accelerate food and nutrition security in the country. The contribution of the project towards setting food safety standards has been acknowledged domestically, as well as globally."
Bhaskar Goswami, who has led the project, said: "We have come a long way from where we were in 2015 when the project started. In essence, today's event marks the culmination of years of steady policy progress, refinement, and consistent efforts to build capacity. Bangladesh is now in a much strong position in terms of policy and strategy. These policies have, and will continue to have, an impact on what millions of people eat."
Project key achievements:
Prepared and monitored the Second Country Investment Plan (2016-2020) which resulted in USD 14 billion dollars allotted to address food and nutrition issues.
This was followed by the draft of the Third Country Investment Plan which focused on Resilient Nutrition-Sensitive and Sustainable Food Systems (2021-2025), and its Plan of Action and the Monitoring Framework.
Formulated 11 200 food safety regulations in a major step towards harmonization with codex, the international food code.
Drafted the National Food and Nutrition Security Policy 2020.
Drafted the Bangladesh Food Safety Authority's Strategic Plan 2022-2026 and provided capacity strengthening of newly recruited officials.
Performed Acute and Chronic Food Security Phase Classification (IPC) analyses.
Formulated the first UN Food Systems Summit's national pathway document and reported on Bangladesh's progress for the forthcoming UNFSS Stocktaking Moment.
Provided technical inputs to the Global Action Plan for reducing child wasting in Bangladesh, as well as inputs into the Scaling Up Nutrition initiative in Bangladesh.
Held three national Olympiads, engaging youth in nutrition improvement.
Caried out research studies that enriched the narrative on food and nutrition security, and food safety.
Placed government officials from core partner ministries on masters and doctoral fellowships, and organized short-term in-country and international training for officials.