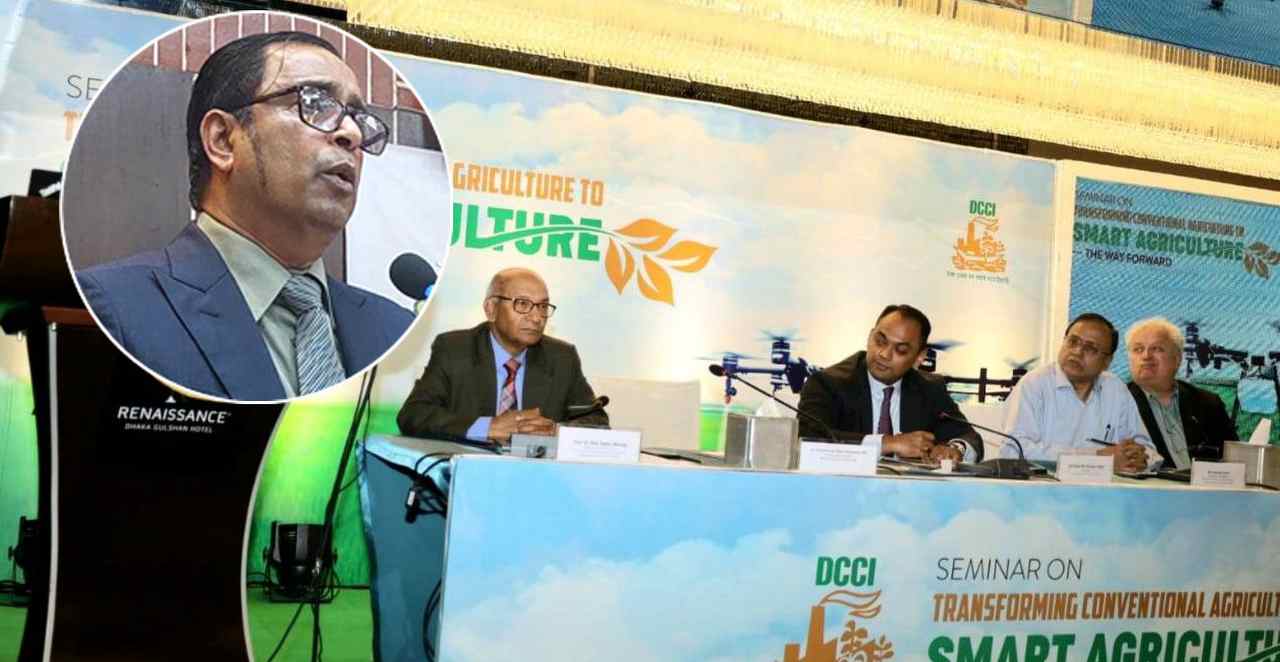 Staff Correspondent: Speaking on the above matter ACI Agribusiness President Dr. FH Ansery said, my understanding of Bangladesh agriculture is having two different dimensions specifically farmers producing food for family and self-employment and agripreneur primarily for commercial purposes. In crops and animal agriculture there, amazing technologies available globally. Primarily the objective of transformation is to improve productivity through yield, reduction of cost and reach to a desirable economic level expectation. We have to move conventional agriculture to smart agriculture.
Dr. FH Ansery said these things as a panel discussant in a seminar on 'Transforming Conventional Agriculture to Smart Agriculture: The way Forward ' at a hotel in the capital on yesterday (12 April, Wednesday). Dhaka Chamber of Commerce & Industry (DCCI) organized the seminar.
Dr. Mohammad Abdur Razzaque, MP, Minister, Ministry of Agriculture was present as the chief guest in the seminar. He has given several examples on smart agriculture which are already introduced and some are under process of Introductions.
Dr. Ansery Said, In crops agriculture there are many uses of smart farming, Such as: Precision agriculture- to monitor crop growth, soil moisture, and measuring nutrient levels, Drip Irrigations, Hydroponics, Greenhouses -to optimize the growth and productivity of crops in controlled environments, Vertical farming, In Farm Mechanization use of Transplanter, Tractor & Robotic Tractor, harvester, potato digger and Robotic Fruits harvester technology, Monitoring systems using to gather data on crop growth and health, Crop modelling and forecasting- to predict crop yields and potential problems
'Agriculture Communications & Extension through Mobile apps connect farmers and guides practices. And also forward linkage with the customers' – he added.
Dr. Ansery Said, By using Yanmar harvester and Smart Assist Remote (SAR) system can be improved paddy yield by 30% to 40%. This yield sensor can sense and make a yield mapping during harvesting of paddy. From where it can be easily identified the yield variance due to shortage of fertilizers. These data will be stored in the central server, from where intelligent drone can take data and fertilize and apply the required nutrition to improve the yield of the same piece of land in next season.
He discussed- smart milking, automated feeding, Livestock Remote monitoring and traceability,  in the context of the use of smart agriculture in the cattle and dairy sector. He also said, Farmers are connected through Mobile apps, SMS and Voice Messaging for improved practices. Robotic milking is not only handling the whole milking process automatically, but also gather data and detect mastitis -a devastative disease in Cattle.
In Bangladesh most of the poultry integrator are using Robot for vaccinations of their Birds and some of them are also for feeding.
There are several Practices that has been using in Fisheries and Aqua Farming in Bangladesh also. Smart Fisheries and Aqua Farming that is already practice in Bangladesh. Automated fish feeders is controlled remotely by using smart phone and saving 15-20% feed loss.
Dr. Ansery also discussed in adoption of smart agriculture in Bangladesh in that seminar. He said,  Smart agriculture is in initial stage in Bangladesh only a small number agriprenures are using, Access to Found-Many farmers cannot use these practices, Lack of Knowledge and skills, Government extension systems still need to adopt and motivate to promote smart agriculture. He also discussed solutions to face these challenges.