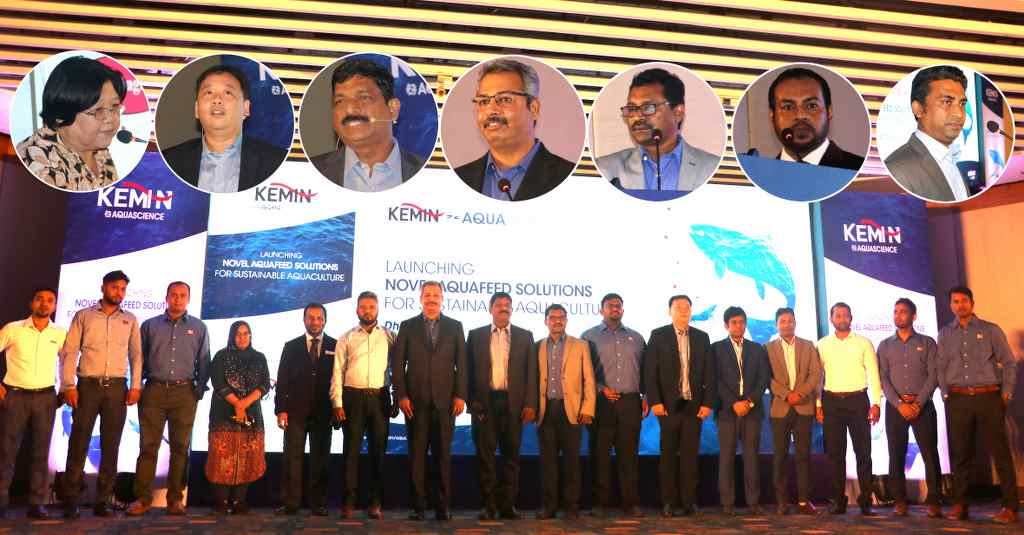 Special Correspondent: Aquaculture is poised to meet current demands. Fishmeal and fish oil, the drivers of fed aquaculture, are efficient and nutritionally complete sources of nutrients, and the industry has been learning to stretch a relatively consistent supply. But fishmeal and fish oil are ultimately a limited resource and a potential future bottleneck (physical or economic) for aquaculture. Without alternatives, the future growth of aquaculture will be kept in check. To date, aquaculture has met these challenges. The future of aquafeeds will be based on the use of alternative dietary ingredients that will allow the global aquaculture industry to increase production in a sustainable manner. It is key to evolve feeds with advances in technologies and ingredients to produce aquafoods for the increasing world population.
On the other hand, Over the past few years, Bangladesh has gained a great reputation in the world for fish farming. The government and the private sector now want to make Bangladesh's fish farming sustainable and exportable. World renowned company kemin has understood the matter and they are now focusing on sustainable fish farming. They want to be a proud part of Bangladesh to build a sustainable fisheries sector. They have recently launched Aqua Business Unit in Bangladesh.

Kemin AquaScience™ hosted a grand launch event on Saturday (June 18) at Radisson Blu Hotel in Dhaka with the theme "Novel Aquafeed Solutions for Sustainable Aquaculture". It was attended by various fisheries experts, scientists, entrepreneurs and high-ranking officials of non-governmental organizations from home and abroad.
Mr. Krishnan, Regional Director-South Asia, welcomed the guests on behalf of Kemin AquaScience™. At this time he gave a brief idea to the guests about Camin Kemin AquaScience™. He also introduced the speakers who came to the seminar.
Dr. Orapint Jintasataporn (Associate Professor, Department of Aquaculture, Faculty of Fisheries, Kasetsart University, Bangkok, Thailand) discussed the title titled "Overcoming of using alternative ingredients in aquafeed" in that seminar. She discussed the rise in prices of fishmeal and other raw materials around the world and alternative material for protein sources, digestibility of some animal protein (shrimp, cobia), application fo feed enzymes.
Dr. Orapint concludes her discussion on three points in bold and they are: 1. The challenges on formulate aquafeed by using the alternative plant protein and carbohydrate is obvious and incorporation of plant ingredients rich in ANFs. 2. It could be associated with the feed nutrient and physical of feed quality, environmental impacts, or the economics of aquaculture production. And the third is- The value addition to enhance utilizing feed nutrients could be promoting pellet palatability by using protein hydrolysate from fish/shrimp, squid or poultry by products, balance dietary amino acids and improve material digestion by enzyme supplementation, including emulsifier for enhance lipid digestibility and energy supply biologically active compounds and other essential nutrients to improve product quality (hardy, 2010).
After that, the official launch of 6 novel aquafeed products marketed in Bangladesh was announced by Mr. Sushanta Dey, Director Sales, Kemin Industries South Asia. The products are – Zyvanta™ Aqua 100 LQ (Multi-enzyme liquid system for fish feed application), Zyvanta™ PRT 100 LQ (Liquid protease enzyme for fish feed application), Proprevia™ N 100 LQ (Novel bioactive peptides for aquafeed) Lysoforte® Aqua DR (Powerful nutrient absorption enhancer), AquaCURB™ LQ (Organic acids with surface-active agents for aqua feed), Vibrell™ C Premix (Thermostable Vitamin C and trace minerals premix).
The products mentioned as a local distributor of Kemin AquaScience™ will be marketed in Bangladesh by two companies named Planet Pharma Limited and Neons Ltd.  Planet Pharma Director Mr. Shah Fahad habib and Neons Managing Director Dr. Mahmudul Hasan were present on the occasion.
Mr. Grin Swangdacharuk (Product Manager, Kemin AquaScience™) discussed titled "Kemin's solution to overcome the limitation of alternative ingredient in fish feed" in that seminar. Mr. Grin discussed in details the products mentioned at the time.
Mr. K Satish (Regional Business Manager -MillSMART, KAS (Kemin Application Solutions) presented "Improving profitability by optimizing the feed milling efficiency" in the seminar. "Accuracy in product application, uniform distribution, Mor than 90% of recovery of product applied on feed and CV of PPLA is less than 10% – are the benefits of Kemin post pellet technology" Showed Mr. Satish.
At the end of the presentation of the technical experts, open questions were invited for the guests and experts were answered fluently.
Dr. Rajesh Sikder, PhD (Manage, Sales,Kemin AquaScience™)  gave the closing speech on the occasion. He extended heartfelt congratulations and gratitude to the invited guests and invited them to dinner.
Noted that, Kemin is a market leader with an established safety record and the regulatory approvals necessary to provide quality products to aqua feed and feed ingredient customers. Kemin rigorous quality control and regulatory approach demonstrates our commitment to safety, sustainability and science. They have been developing solutions for the animal production industry since 1961, and they are ready to turn their focus on research and innovation in the aquaculture industry, providing dedicated resources to help their customers better manage their challenges and achieve profitable production.