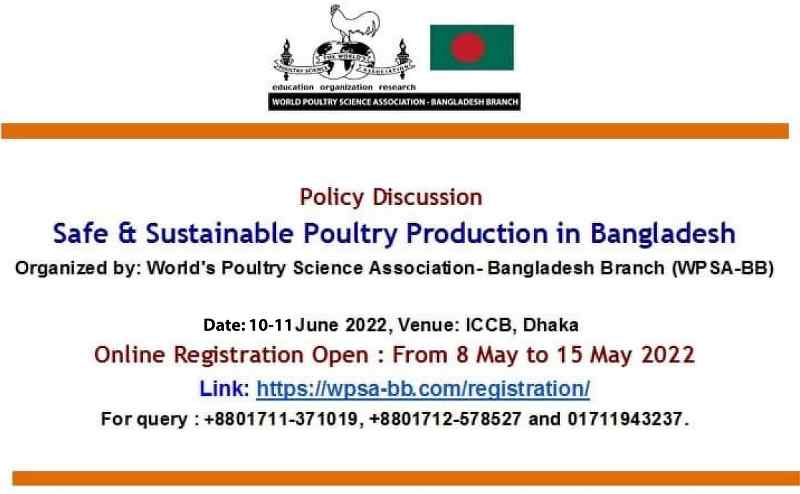 International Desk: The date of International Seminar and Policy Discussion titled 'Safe & Sustainable Poultry Production in Bangladesh' organized by WPSA-BB has been changed. A new date has been fixed for 10-11 June, 2022; WPSA-BB official sources confirmed the matter. The two-days long international seminar and policy discussion will be held at International Convention City Bashundhara (ICCB), Hall-2 (Pushpoguscho), Next to 300 ft. Purbachal Express Highway, Bashundhara, Dhaka-1229.
Online Registration is mandatory for participation in the Seminar. Seats are limited. Registration will be on "First-Come-First Serve" basis as long as the seats are available. Once all seats are booked the registration process will stop. Online registration will be open from 8 May, 2022. Registration fee is BDT. 2,000 (Regular) and BDT. 1,500 (Graduate Student). For On-Line registration, please click on the link below:
https://wpsa-bb.com/registration/
In this two-days long programme, five Technical Working Groups, constituted by the Scientific and Policy Forum of WPSA-BB, will present their analyses and recommendations on different important aspects of poultry production in Bangladesh. In addition, several International invited speakers will share their knowledge and experiences in the seminar.
Registration fee has to pay be paid by 'bKash' at number 01711943237 or 01716454778 (Personal) and `Nagad' 01712578527 and the transaction number must be inserted in the Registration Form. Please take a note of the Transaction ID from the bKash or Nagad confirmation SMS. Then open the online registration portal at (Link: https://wpsa-bb.com/registration/) complete the registration form and carefully insert the bKash or Nagad transaction ID of your payment. Successful registration will be confirmed by e-mail within 72 hours. Please preserve the confirmation mail to get the ENTRY CARD, Seminar bag and Lunch Coupons.
For any query regarding registration please Mail to: info@wpsa-bb.com, or Call to: +8801711-371019, +8801712-578527 and 01711943237.