International Desk: Contract signing to commercial production within one year. Nahar Agro complex limited has built a state-of-the-art modern feed mill at Nalka, Sirajganj, Bangladesh within a gloating time of only one year. The newly built plant is equipped with the most modernized equipment and systems. It has four separate 15 TPH each pelleting lines; these latest automated pellet mills are designed to produce higher throughput with lower energy costs. The plant has two double shaft paddle mixers: each having capacity of 3 ton per batch. Along with the pelleting lines, the plant also has a separate 15 TPH mesh feed line and 5 TPH full fat soya meal extrusion line. Alongside the process lines, the plant also has a hefty maize storage capacity of 20,000 Ton with 4 silos of 5000 Ton each storage capacity. Moreover, in this time of volatile global supply chain, when disruptive changes are felt everywhere from raw material sourcing to accessing desirable quality, the plant has installed just the right equipment; a 30 TPH maize dryer to leverage the ease of material sourcing and storing. All the machines of the plant are interlinked with high-end accessories and sensors and are centrally run as one system requiring the lowest amount of manpower.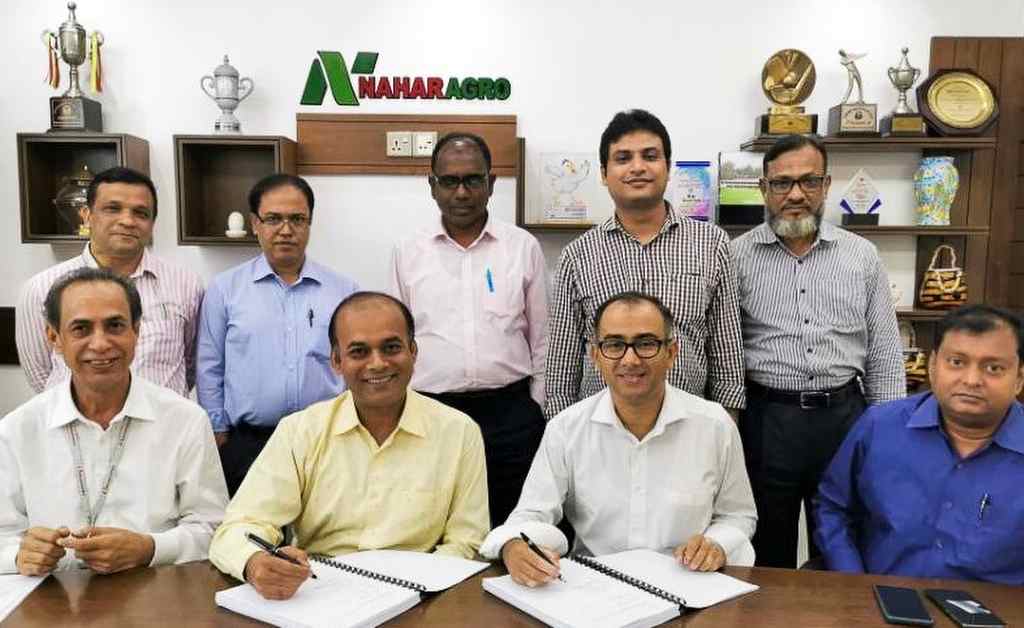 According to the management of Nahar group, their leaders wanted to build a trailblazing feed plant at northern part of the country to better serve the farmers there. At the planning stage, they strategically chose this location with the aim of bringing the best quality products closer to the farmers of this region.  Keeping aligned with their unwavering group value of providing goods and services of excellent quality to their entire client base, Nahar Agro Chose Bühler as the complete solution provider for the project.
Everyday billions of people meet with Bühler technologies to cover their basic needs for feed, food and mobility. Bühler develops the best process solutions along complete value chains. The company boasts a more than 160 years of experience in transforming valuable raw materials into higher-grade end products. Over these years, they have continuously refined the processes applied to create innovations for a better world. Bühler's animal feed solutions help their partners to produce top quality feed and to make economical use of their raw materials and energy. The solutions come in a modular design so the clients can customize them to match their production process. Bühler also offers services, maintenance, repairs, automation, technology support and training. These are all designed to deliver high quality products and cost-effective processes. All these are done meeting the most stringent Swiss standards in every aspect of the solution.
These are the key areas of Buhler group that attracted Mr. Md. Rakibur Rahman, Managing Director of Nahar Agro Complex Limited. This visionary young business leader of Bangladesh has been diligently working towards betterment of Bangladesh's entire poultry sector for the last 30 years. Significantly contributing to the economic development of the country, Mr. Rahman has aligned his company's mission to help forward the nation's goal of attaining sustainable development within the shortest possible time.
Nahar and Bühler in concert planned, designed, and executed the whole project during the peak time of world-wide covid-19 outbreak. When the whole world was facing unprecedented disruption in almost all its normal functions, when almost all the business sectors were being severely impacted by this raging pandemic, Buhler and Nahar through their proactive and carefully coordinated joint efforts were able to complete the project avoiding any setback. Nahar and Bühler believe that this highly prized newly built Feed Mill of 80 ton per hour will substantially assist in creating employments and fulfilling nutrition demand of the people of Bangladesh.