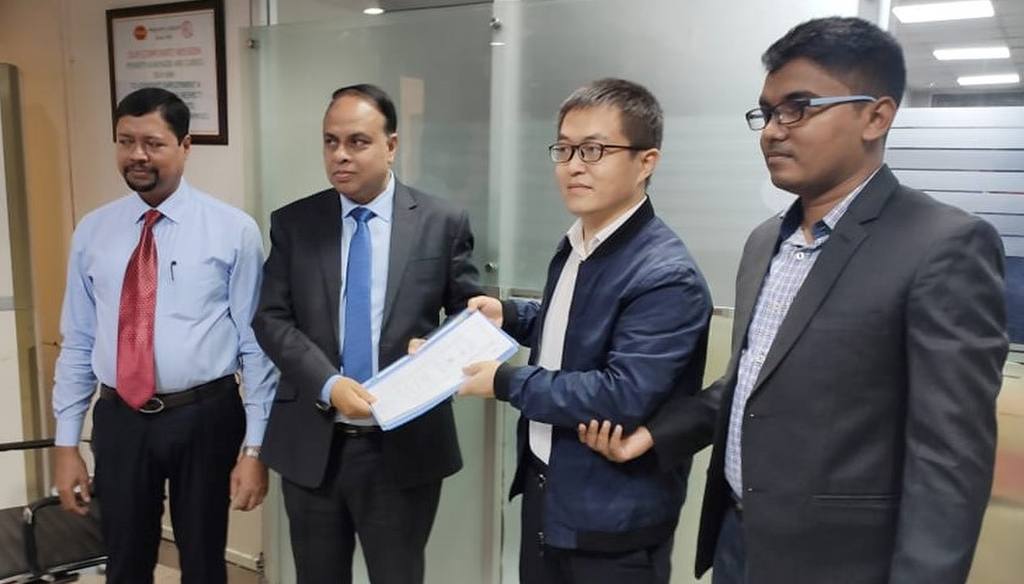 International Desk: An agreement between Pran and Famsun was signed on Sunday (December 26) at Pran RFL Head Office. PRAN Group Managing Director Mr. Eleash Mridha, Executive Director Mr Naser Ahmed, General Manager Mr Mamunur Rashid, Mr Abu Bakkar Siddque, Supply Chain Manager Mr. Sohanur Rahman Sohan, FAMSUN Country representative Mr Dylan Guan and Bangladesh team leader Sheik Mosiul Hasan attended this contract signing program. FAMSUN Vice President Mr Kian Wang monitoring the program.
PRAN always adheres to food safety and security. PRAN products are always given priority not only to humans but also to animals. It also produces feed through the assurance of the production of halal and hygienic foods and by ensuring proper quality of raw materials through extensive testing, Said Mr Eleash Mridha, Managing Director of PRAN Group.
We always staying with our customers, ensuring best quality product and will overcome the difficulties together, Said Sheik Mosiul Hasan.
KALIGONJ AGRO PROCESSING LIMITED project which located in K EKOTA, SAORAID BAZAR, KALIGONJ, GAZIPUR in Bangladesh is a first Poultry Pellet & Layer Mash Feed production line with latest version feed machines, Including K15 Gear Drive Pellet Mill, getting feed capacity of 10 Ton/Hour.
During the epidemic situation, FAMSUN engineers working continuously on all running plant, successfully delivering each plant to reputed clients.
"After more than 50 years' development, FAMSUN has grown into a leading global technology partner for plant, equipment & service in feed manufacturing, grain milling, grain handling & storage, oilseed processing, animal farming, food processing, steel structure construction & industrial automation.
FAMSUN supplied 6600+ reference projects in 143 countries, 50+ agency, sales & service station and spare parts warehouse closed to customers.
Seven production bases, one in Egypt and five in China, total 74.18 hectares of manufacturing and distribution capacity. 3600+ employee work in sales, customer service, engineering, R&D, production & logistics.
1000+ patents until no, Equipment is marked by CE and ATEX symbol.
Since 2004, FAMSUN supporting Bangladesh Agro Industries for technological development. During this period FAMSUN cooperated with most of all largest Feed Mill Company by establishing 90+ production line as Poultry (Broiler), Layer (Mash), Sinking, Floating, Cattle feed, Soybean Extruding and as well as grain dryer & different size of storage silo plant.
In Bangladesh market. FAMSUN is One-stop solution provider, including Consultation, Design, Manufacture, Logistics, Installation, Commissioning, Training and Service".