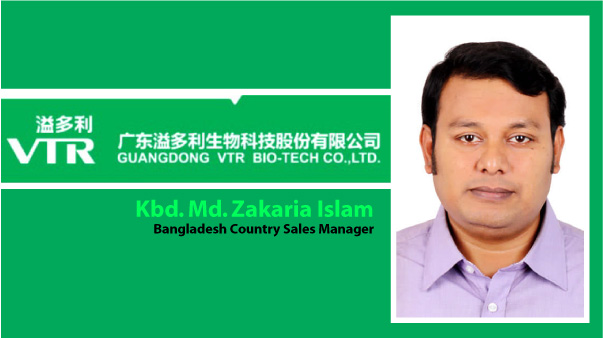 International Desk: One of the largest Enzyme manufacturer company "Guangdong VTR Bio-Tech Co., Ltd. appoints Kbd. Md. Zakaria Islam as a Bangladesh Country Sales Manager from November 2019. VTR team are delighted to have Zakaria Islam in our team and they are sure he will accomplish the goals of the company and take VTR to the new heights at Bangladesh Market.
Kbd Md.Zakaria Islam achieved his M.Sc. degree in Poultry Science from Bangladesh Agricultural University and B.Sc in Animal Husbandry in Bangladesh Agricultural University. He has come along with 5+ years of experience in the Poultry & Livestock industry with reputed organizations. He is very known face to the industry.
About Guangdong VTR Bio-Tech Co., Ltd:
Founded in 1991.
professional Bitechnology group
National High-Tech enterprise of PRC.
The first feed enzyme preparation company in China.