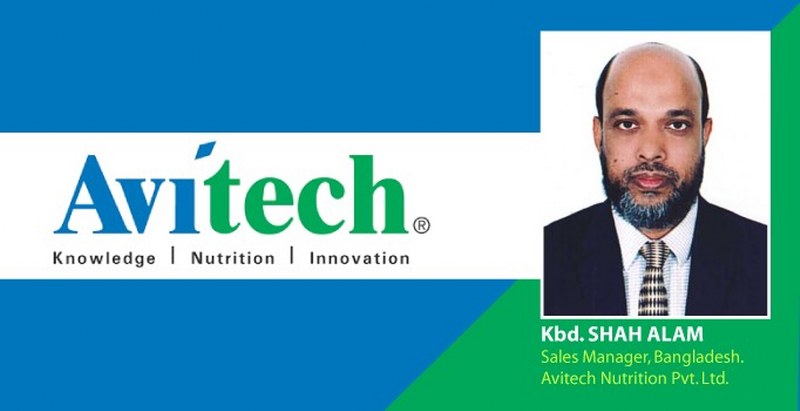 International Desk:  Avitech Nutrition Pvt. Ltd., India has been appointed Kbd. Shah Alam as a Sales Manager in Bangladesh recently. In the country's poultry, fisheries and livestock sector Mr. Shah Alam is a very well-known face. He has a long experience in sales and marketing from field level to institute in the mentioned sector.
Mr. Shah Alam who has more than a decade and a half of experience in this sector wants to take Avitech to a definite position in Bangladesh. He wants to build strong ties with government and non-government organizations in the country involved in poultry, fisheries and dairy sector. He wants to take Avitech Nutrition Pvt. Ltd., India forward with sales activities by forging strong ties with government and non-government organizations in the related sectors.
Kbd Shah Alam graduated from Hajee Mohammad Danesh Science and Technology University in 2000 and completed his MS degree from Bangladesh Agriculture University in 2002. In his new career, he sought blessings and cooperation from everyone in the sector.
About Avitech Nutrition Pvt. Ltd.
Avitech Nutrition understands the evolving requirements and challenges faced by the animal feed industry and provides solutions backed by research and experience in the field. Apart from being a leading producer of premixes, Avitech is a provider of cutting-edge technologies in the feed additives sector. Avitech employs a large pool of scientists and has grown to become a respected and recognized corporate in the animal nutrition sector with increasing presence in different parts of the world.
Commencing operations in 1996 as a division of Indovax Pvt. Ltd., into a leading corporate today, Avitech's journey has been characterised by innovation and customer centricity. A premix manufacturing facility and lab were established in 2002 with the objective of providing quality premixes to the Indian feed sector.
For more details please contact:
Kbd. SHAH ALAM
Mobile: +88 01879937803
E-mail: alamshah250176@gmail.com